THE ASSEMBLY OF A TABLE TOP
HERE IS A RECORDING OF THE ASSEMBLING OF THE FOURTH TABLE TOP
ONE OF GORDON'S FIRST PUBLISHED ARTICLES
This is a composite we created for the video that was to show one of Gordon's first articles ever published in his high-school annual. We made it to look like it was sitting on top of a side table in his childhood home. All of the paper elements that you see in the image below are scans of real artifacts from Gordon's life. We just used Photoshop to help tell the story.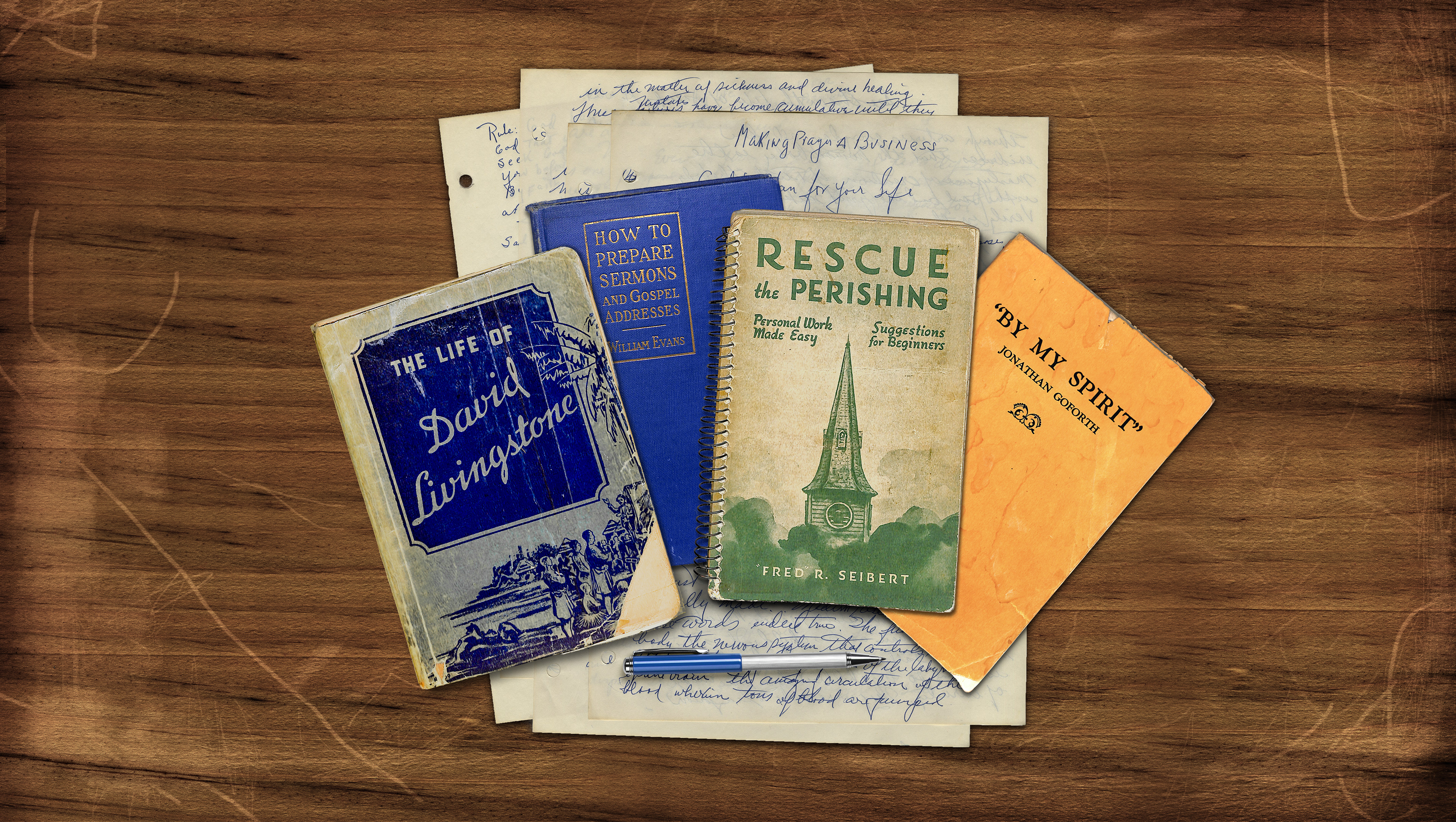 These four books were pulled from Gordon's personal library and the two on the top layer were copy written before Gordon's salvation experience, so while we do not have the cold hard facts, we can only guess that these could have been some of the first books that Gordon read after he gave his heart to the Lord!
A SCENE FROM GORDON RECOVERING AT JOHN G. LAKE'S HOME
I would say that all of the paper elements in this one are real, but the paper under Gordon's bible we actually created by scanning one image in and then superimposing typewritten copy onto it. The papers on the left are meant to be the sermons of John G. Lake, but are actually some of Gordon's notes on the subject of making Prayer a Business! That's a pretty good policy if you ask me! 
THE FIRST VOICE OF HEALING OFFICE IN JACK MOORE'S GARAGE
This scene, set in the second story of Jack Moore's Garage, is really my favorite, maybe it's because of the amazing things that God was doing in that time, or maybe it is because of the entrepreneurial aspect of it! God told Gordon to write a magazine, and even though William Branham, The evangelist they were following in its narrative, had gotten sick in some of the earliest stages of it's publication, Gordon and the rest of the Voice of Healing team chose to continue! The document you see in the center of the table is the constitution of the Voice of Healing outlining this very story. Scattered around it are some of the first Voice of Healing magazines that were published as well as some photos of the conventions revivals and evangelists involved in the Voice of Healing. 
THE LAST TEN YEARS OF GORDON'S LIFE
This is a later composition made to look like one of the last spreads of Gordon's desk. It is not really set to a one period of time, but I like to imagine that it falls somewhere in the last four years of his life. In the story in the video below you'll learn that Gordon was writing a book a month at that time all while starting Christ For the Nations Institute, putting thousands of roofs on native churches, launching a ministry in Israel and many other huge acts of faith.
The paper both in the typewriter and the binder are scripts that Gordon wrote for a radio show testimonial of the great move of God that they had been experiencing in Florianopolis, Brazil during some of those miraculous revivals! You'll also see some stamps from Gordon's actual collection, (He loved collecting stamps), And one of his books that he wrote that we as a creative team thought summed up one of the largest passions of his life "World Evangelism Now: by Healing and Miracles". 
THE GORDON LINDSAY LEGACY
​​​​​​​
Learn about the life of Christ For The Nations Founder Gordon Lindsay in this short biographical video! Discover Christ For the Nations' powerful ministry training program: 
Website: www.experience.cfni.org 
Twitter: @CFNI 
Instagram: @cfni 
Facebook: Christ For the Nations Institute